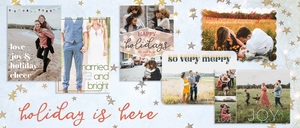 I'm SOOOO excited to announce that our semi-custom holiday card collection is here! Twelve designs to choose from; countless ways to customize them. From number of photos to fonts and colors to corners, let's make your 2020 holiday card uniquely yours.All holiday orders include FREE: customization & designer assistance (front & back) digital proofs & unlimited revisions (for real!) Fedex Ground shipping (who doesn't love free shipping?) I know you have a lot of choices when it comes to holiday cards. I also recognize that it's a lil early for some of you to think about the holidays. So to sweeten the deal, I'm offering 10% off through next Wednesday,...
---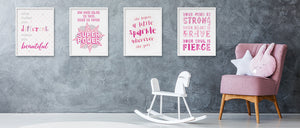 I'm excited to share our fourth and final new collection with you today. Sweet & Sassy was born from a custom design project for a client who wanted "girl power" prints for her twin daughters' new pink and gray bedroom. I loved the final products so much that I decided to add them to my inventory- as both greeting cards and 11x14" art prints. Working with my client to design these was easy and so much fun. We began by choosing a color palette and brainstorming quotes and sayings. Once she chose her favorites, I worked up graphics for each, making edits to reflect her feedback. If you have an idea...
---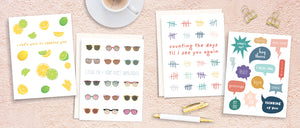 Even though quarantine restrictions are beginning to lift, it appears we still have a long way to go before we're able to socialize with our loved ones the way we're accustomed.That's one reason I'm SO excited to announce the launch of four new collections: Long Distance (shown), Quarantine Quips, Dear Mom Dear Dad, and Sweet & Sassy! All four are now available on our website.Sixteen new cards, printed on luxurious cotton paper, are perfect for the people you miss the most during this crazy time. Each card is available for purchase individually or as part of a set.For me, one of the silver linings of staying at home has been diving back into the creative...